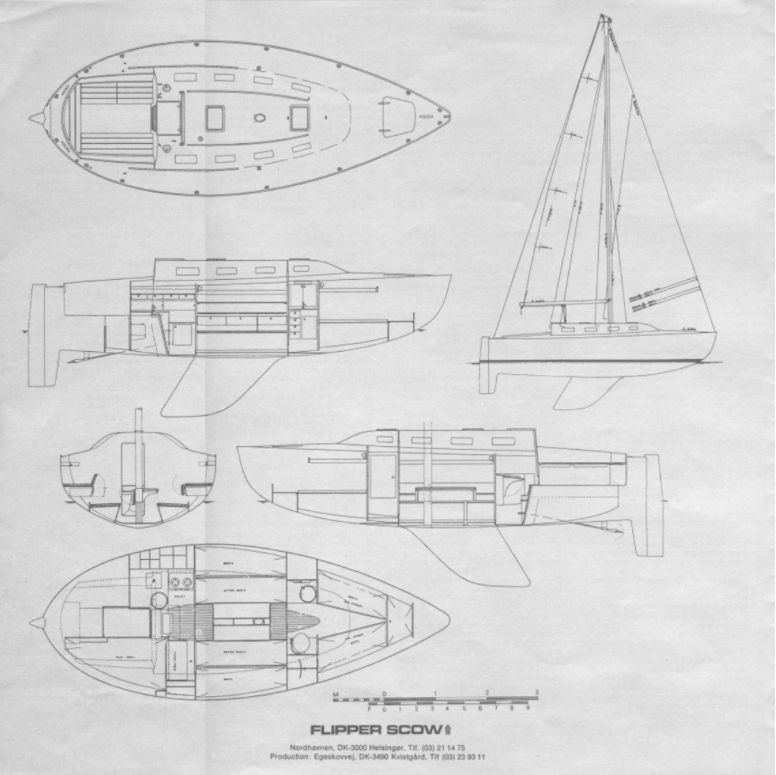 Grinde technical information
Grinde with standard equipment – builders description
Hull
The hull is cast in one piece solid hand-laid fibreglass 8 layers of 450 gram matting freeboard. 11 layers below the water line. 16 layers above the keel. The bottom in the region of the keel is reinforced with 6 transverse floors in heavy laminate.
Deck
The deck is cast with 7 layers of 450 g fibreglass matting sandwiched with 10 mm balsa core. Hull and deck are moulded together to form a single, strong, watertight unit. Fore after and locker hatches are vacuum moulded in double fibreglass.
Weight
Weight of hull, deck hatches and rubber approx. 900 kg. 1600 kg cast iron keel specially treated with zinc epoxy. The keel is fastened to the hull with 6 through-going 25 mm stainless steel bolts.
Rudder
Rudder and rudder fin are cast in fibreglass. Rudder is filled with polyurethane foam. Heavy stainless steel rudderstock. Rudder is hinged to the hull with a stainless steel heel below the rudder fin and a heavy fitting on the afterdeck.
Colours
Grinde comes in the standard colours white, light blue, red and moss green with cast-in waterline and two-tone deck. Non-slip surfaces dark grey, deckhouse and cockpit light grey, 2 layers of gel-coat and surface matting for high gloss and heavy wearing.
Bottom treatment
Etching, primer and black Interracing bottom paint.
Deck fittings
Of stainless steel: Deck fitting for rudder, fore and stern pulpits, handrail, chain plates, forestay fittings, hatch hinges, eyebolts, hawse etc., rudder head.
​Of aluminium: Fico mainsheet track with sheetwaggon and cleats, combined hand rail and rail track, 2 Goiot GO 115 skylights, GO 950 ventillator cowl and 3 GO 403 mooring cleats. Stem fitting, coaming and winch base etc. 2 Barlow 24 chrome bronze winches with 2 10" handles, lock in. 4 201 Clam cleats. Silva K 111 P compass with build in lighting. Filler cap and drain with sea valves. Henderson bilge pump in locker. 8 smoked acrylic windows in deckhouse. 3 telescopic stays for locker and access hatch.
Tiller
Sturdy tiller, cockpit henzhes with laminated back, 2 handrails, access hatch with louvers and scuttle in acrylic – all in teak. Removable seat for life raft in cockpit.
Interior
Accomodation in 16-12 mm Kaja mahogany with matt polyurethane finish. Rounded nosing, handrails below deckhouse roof and salon floor are of teak. Bulkhead double welded in groove.
To port aft: pantry with Formica table top, stainless steel sink with footpump. Optimus 155 double paraffin primus, gimbal suspended with potholder. Icebox of stainless steel. Shelves drawers and cupboards fitted for cutlery, crockery and refuse bag frame.
To starboard aft: chart table surface in green lino, closed chart locker, drawer and radio shelf. 2 m quarterberth. Afterside deckhouse surfaced with mahogany panelling.
In saloon: 2 lenghtwise sofas, 1,95 m with backs. Double folding table with raised edges and bottle holders. 2 pilot berths with shifting boards and shelves. Stowage space under berths. 6 drawers under pilot berth.
Forehold bulkhead with folding door. In front cabin; Formica surfaced dressing tables, stainless basin and foot pump. Drawers and cupboard.
Opposite: Lavac water flushed toilet. Wardrobe with hanger tail and shelves. Forward: 2 folding berths, 2 m, below these sail locker and stowage space for anchor etc. Plumbing includes pumps, 50 liter rubber tank and sea valves
Wiring from switch panel to 5 bulkhead lamps, 1 fluorescent tube, chart table light and navigation lights. 12 volt battery.
Freeboard interior faced with 5 mm cork. Underside of deckhouse and deck treated with two component primer, moisture absorbent paint with plaster texture and PVA ceiling paint.
Cushions
8 cm 35 kg/m3 polyether with removable upholstery of all wowen horsecloth from Paustian. Forehold with non-slip carpet.
Mast
Length 13.2 m. Own construction of silver anodised aluminium with 110x 180 mm profile. Stands directly on keel. Rounded masthead and rigging fittings. Spinakker track, spreaders and sockets, sail lead-in, mast heel and winch consoles of aluminium. Internal halliard, 2 Barlow 15" winches. Masthead light and Windex wind indicator.
Boom
Length 3.2 m of silver anodised aluminium with fittings for kicking strap, blocks and mainsheet block with sheet cleat track, traveller and blocks for slab reefing. Internal outhaul with slide and sheavebox.
Standing rigging
6mm stainless steel wire 1 x 19, 7/16" rigging screws and end fittings of stainless steel. Running rigging: 5 mm stainless wire 7 x 19 spliced to 10 mm polyester Yacht line. Boom topping lift of 3 mm wire.
Navigation lights of stainless steel. Approved type. Double forelights BT 155 VO stern and masthead lights BT 134 VO.
Sheets
Mainsheet, foresheet and kicking strap of 10 mm woven polyester Yachtline. Blocs: Fico stainless steel blocks for mainsheet and kicking strap. For foresheets: 2 Goiot GO 169 sheetwaggons amd two travellers with eyes, GO 169 bis. Baron nr.1 back stay adjuster. Sea sure 301 stay adjuster. Snaphooks and stainless steel shackles for sails and halliards. Sails from Fogh sails Europe are of stabilized Bainbridge Dacron 25 m2 genoa III 6.5 oz 19 m2 mainsail 7.25 oz. Aquabatterns sail mark, sail number and sail bags.
Engine
10 HP Bukh water cooled diesel with electric starter and generator. Installation with Velus water filter and water lock. 12 volt battery 90 ah. Teleflex one-handed remote control and key start in locker. 25 mm stainless propeller shaft. Flex stern tube washer, stainless steel shaft support and gori 16" folding propeller. Fuel consumption: 11/2 liters per hour. Engine room isolated with 25 mm Divinylcel
The Norwegian classification bureau Bureau Veritas have in principle approved the Grinde and her construction. A Bureau Veritas certificate will be available at the owners risk.
This and more information on Grinde, please visit the Danish Grinde Club at http://www.grinde.dk/